BUNJURGEN Charbray Cattle Stud.
Est. 1998
---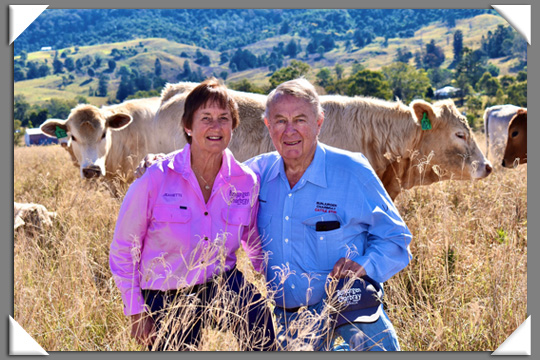 Contact Us at Bunjurgen Charbray Cattle Stud
Bunjurgen Charbray is proudly owned and operated by Graham and Jeanette Neilsen.
If you would like to purchase a bull through your Stock & Station Agent please have him contact us direct.
Or contact us for details on the cattle that you are interested in and then we can work with your nominated agent to arrange delivery, etc. of your Bunjurgen Cattle.
Property Location
105 Behrendorff Road
Bunjurgen Qld 4310
GPS Coordinates
Latitude: -28.034547
Longitude: 152.607659
Phone and Email Contact
Graham 0418 732 767
Jeanette 0438 655 315
E:
"Dear Jeanette and Graham,
Just a couple of pictures of the bull (VD-3) and his calves. The bull is a real beauty and so quiet!" Kindest regards,
Werner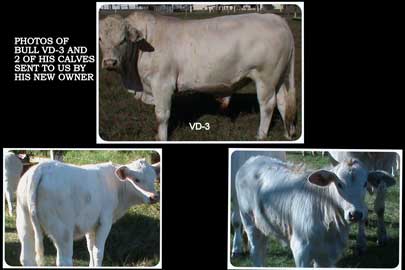 "We purchased a bull off you last season and I'd like to tell you he has been the nicest natured , well mannered and hard working bull we have had here as a 2 yo. He was everything you said and more. Out of 32 cows last season ( 3months) he serviced 30... we got 27 male calves and could not be happier with every calf.... He has enhanced our progeny from our Brahman x cows and our Brahman, British cross calves are crackers!!! They are muscled up and growing nicely...
This is "Silent Bob" now. All our neighbours like him and like I said we sold two little bulls out of our cows by him last week .... We will keep him for about 3 seasons more and turn over , I'm sure someone local will buy him and then we will be back.
Watch the Toogoolawah sale in May. Here's his calves. Thanks ,
Jason Atkins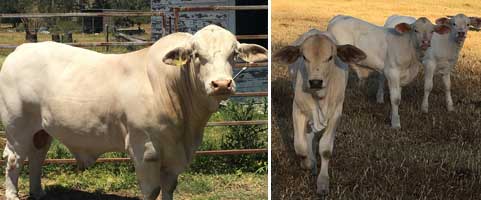 "Hi Graham and Jeanette, Pepper has settled in very well here and didn't go backwards at all. You should be very proud of the bulls you breed as the two we have bought off you have great temperament and are such beautiful bulls. Pepper is outstanding and I can't wait to to see his calves on the ground. We have been giving him a bit of molasses with copra meal and he now runs to us when he is called. We love him. Thanks again for selling him to us." Regards,
Jenny and Gavin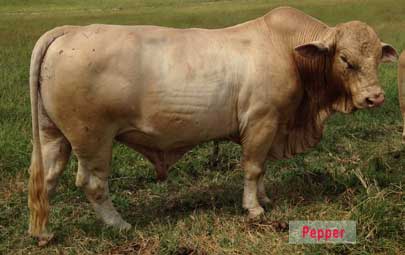 "Hi Graham and Jeanette, I've attached a photo of our wonderful bull Pepper. We weighed him the other day and he has reached 1000 kg. He is huge but he is a gentle giant. He has been the best bull we've ever owned. His progeny are outstanding and people often comment on the quality of his calves. Thank you for such a great bull." Kind regards,
Jenny Currie