BUNJURGEN Charbray Cattle Stud.
Est. 1998
---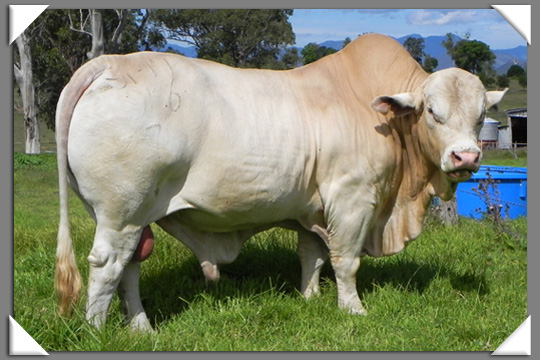 Purchasing Bunjurgen Charbray Cattle
When you purchase Charbray cattle from Bunjurgen Charbray these are the steps below that can't be seen when viewing an animal.
Top quality genetics from the Charbray breed put together from the leading stud cattle in the Charbray breed. This has taken over 2 decades with the main aim to produce top quality polled cattle.
Polled Cattle
The advantages of buying and breeding polled cattle are:
1. No dehorning means less cost.
2. No bruising of carcasses means more profit to the meat producer.
3. No requirement to administer veterinary chemicals during the dehorning process.
4. Less stress for producer and animal.
Breeding Program at Bunjurgen Charbray
The current programme works along these lines:
Decide when we want the females to calve.
Work backward from this date to prepare the pre treatment plan.
Pre treatment plan consists of:

(a) Vaccinations
(b) Vitamins
(c) Feed requirements (body score of females)
(d) Ensuring Bulls are prepared for work
(e) Deciding which bull will go over which female

Join the bulls with the females.
Monitor the condition of bulls and females every 3-4 weeks by weighing.
Administer required vaccinations and vitamins.
Remove bull from his herd of females.
Preg test the females.
Administer required treatments.
Monitor calving.
Weight taken of calves at birth or within 24 hours.
Mother up calves and put temporary id tag on calf.
All actions taken from the above is recorded using the Stock Book Programme.
Bunjurgen Charbray Breeding Mission
The Bunjurgen Charbray Cattle Stud Breeding Mission is:
1. Charbray Cattle must be quiet.
2. Cattle must be easy to handle.
3. Cattle must show good breeding potential.
4. Bulls should produce small calves that show good growth for early turn off, with good structure.
5. Heifers should produce good milk and show strong maternal instincts.
6. Try to breed as many polled cattle as possible by working with genetics and available testing procedures.
7. Recording of data on each animal to be as accurate as humanly possible.
8. To listen to our buying partners and try to produce according to their needs.
Benefits of the Above Programme to the Purchaser
With the care and treatment provided during their growing stages, the purchaser can be confident that the Charbray cattle purchased from Bunjurgen Charbray have had the best possible start in life, therefore ensuring fertility and performance over their lifetime.
Weaning of Calves
When weaning calves we remove them from the mothers, keep them in our yards for 3-4 weeks where they are educated by continually putting them through the race and head bale.
Yard training our weaners is very important to us as it makes the cattle much easier to handle as adults.
During this weaning they are assessed for temperament and fed a special ration and given vitamins and supplements. (Any animals that don't meet our requirements are sold).
At the end of the weaning they are split into bulls, steers and heifers where they are put into their allotted paddocks.
Bull Management
Tips on maximising the benefits when purchasing your new bull...
What should you look for when purchasing a bull?
How should your bull be treated during delivery?
What should you do when your bull arrives home?
What should you do to ensure your bull is 'mating' ready?
Best practise methods to answer all of these questions can be found in the article 'BRINGING YOUR NEW BULL HOME'. Read the article!
Paddock Sales Welcome
Bull and Heifer
Vet Treatment and Weight Gain
Details available for whole of life